Garden Party – Friday 3rd June   

From Thursday 2nd June to Sunday 5th June we will all enjoy a long bank holiday weekend to mark the 70th anniversary of our Queen's reign.
Join our garden party celebration on Friday 3rd June between 1.00pm and 3.00pm, at the church front garden (322 High Road, Ilford).  There will be decorations, seating with tables, music, games, craft activities and a 'royal quiz'.  Refreshments will be provided. We are hoping for good weather! Do join us!
Jubilee Concert – Saturday 4th June 

Join us for a joyful evening of music, song, and dance from a variety of contributors – some of whom will be sharing their talents on stage for the first time!  Our children's groups: JIGSAW and the AMPED club will contribute their talents.  Also the after-school club that is part of the Healthy Living Projects.  We will have a violinist, saxophonist, drummers, and a multi-national choir!
Pictures from the Queen's 70 years' reign will be shown. Refreshments will be available.
Donations will be given to Carmel Ministries in India, and to the Young Black Boys and Men's Club.
Pentecost Sunday – 5th June 
Happy Birthday Church!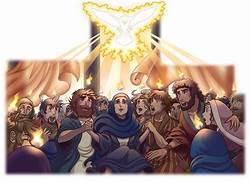 Pentecost Sunday is a special date in the church calendar and is understood to be the birthday of the church.  After the death and resurrection of the Lord Jesus, and His ascension to heaven, He promised a special gift to the disciples – the Holy Spirit to empower them. This day in the history of the Church happened at a significant time – at one of the Jewish festivals called the Feast of Weeks, also known as Shavuot.
Come and join us on Pentecost Sunday at 10.30am, for a special gathering of music, song, prayer and a word of encouragement from Pastor Andrew to receive the gifts that God continues to offer to us today. We remember and celebrate the day when Jesus kept His promise – bringing people together from various nations and cultures.